Clayton is a classically beautiful mountain enclave and old rail town with a main street lined with unique shops, galleries, dining and lodging. The community has done a wonderful job of preserving its architectural heritage, balancing its older structures splendidly with its more recent development. Centrally located, Clayton is the county seat of Rabun County. The City of Clayton was incorporated in 1823, and has an estimated population of 2,234.
Tiger, located three miles south of Clayton, was incorporated in 1904, and today is home to approximately 401 people. Although legend has it that Tiger was name after Cherokee Chief Tiger Tail, the name and that of nearby Tiger Mountain more likely came from the wildcats roaming the area many years ago. Tiger is home to the Rabun County High School, Middle School, and Elementary School, and an old fashioned drive-in movie theatre, senior center, and assisted living center named Traces of Tiger.
Located just south of the Georgia/North Carolina border, the City of Dillard has become well known for its growing number of antique, craft, and specialty shops. Dillard is a favorite stop for mountain visitors, and offers a variety of outdoor recreational opportunities. Dillard was incorporated in 1906, and its population is estimated to be 339.
Mountain City is a uniquely situated recreation and retirement haven. The city is located on the Blue Ridge Divide at the head of the Little Tennessee River. Just a short drive from Mountain City on Highway 28 is Black Rock Mountain State Park, the highest state park in Georgia. With its scenic forest, quaint cabins, and hiking trails, it is the recreational jewel of the area.
Mountain City residents and visitors enjoy antiquing, local auctions houses, and the many outdoor recreational opportunities. An estimated 1,062 people live in Mountain City.
Sky Valley is located in the northeast corner of Georgia on State Highway 246, five miles east of Dillard and Highway 441. Sky Valley consists of privately owned single family and condominium developments, and a time share facility.
An estimated 269 people live in this resort community. In addition, Sky Valley's resort features golf, swimming, tennis, hiking, fishing, and beautiful waterfalls.
Tallulah Falls is situated at the southern end of Rabun County and lies partially in Habersham County. The population was 168 at the 2010 census. It started out in the 1880s as a tourist town for the multitude of visitors to Tallulah Falls. One of the most spectacular canyons in the eastern United States, Tallulah Gorge is the jewel of the city. At three miles long and 1000 feet deep, visitors can hike rim trails to several overlooks or can hike to the gorge floor (with free permit). A suspension bridge, located 80 feet above the rocky bottom, provides spectacular views of the river and waterfalls, and offers great photography opportunities.
Population Estimate as of July 1, 2019: 17,137

Median Household Income (in 2018 dollars): $40,902

Mean Travel Time to Work in Minutes (for workers age 16+): 20.9 

Total Employer Establishments as of 2017: 479

Total Employment as of 2017: 4,671

Land Area in Square Miles as of 2010: 369.99
Rabun County is located in the northeast corner of Georgia and is in close proximity to four interstate highways (I-85N in SC, I-85S in GA, I-40E/W in NC, and I-985 in GA). The two major corridors in Rabun County are US 441 (north/south) and US 76 (east/west). South of the City of Clayton, US 441 is a four-lane/divided highway all the way to Atlanta. Travel time to Atlanta is typically less than two hours.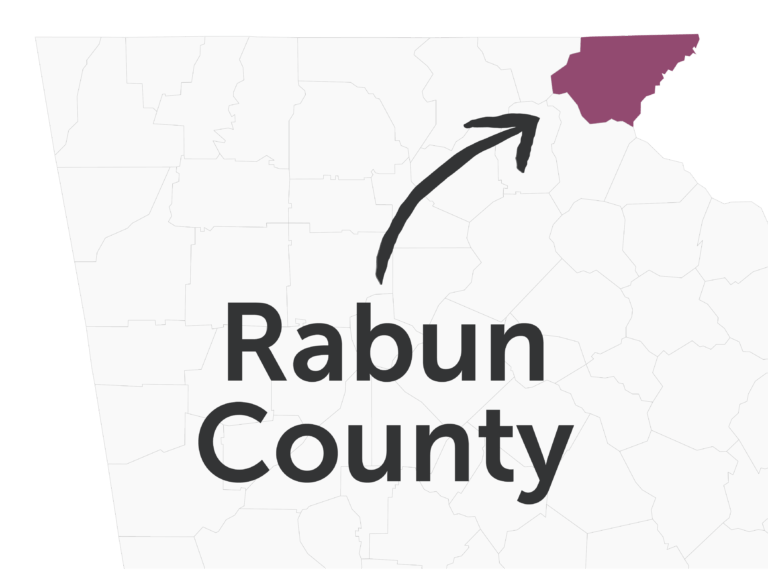 Distance to CSX and Norfolk Southern Rail Stations (Atlanta): Approximately 112 miles
Distance to Amtrak (Toccoa): Approximately 35 miles